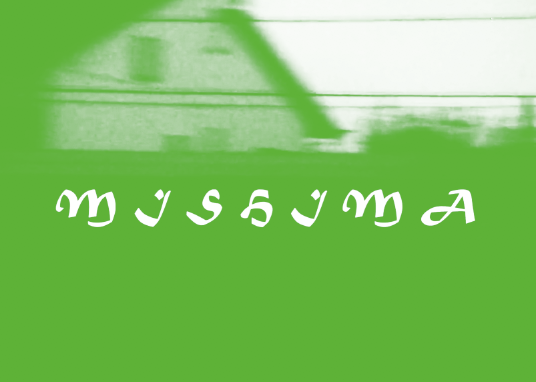 Mishima

Film and Sound Score by:
DAVID BERNABO
---
MISHIMA



Mishima was filmed last fall during a trip to Japan. I had been working on two feature-length documentaries, one about utopian communities and another about composer "Blue" Gene Tyranny. Both are talk-heavy, face-heavy, full of stories and jokes and histories. I love both projects, but wanted to break from that mode of working, to focus on image and sound again, to get lost in the details of a place, to create a bit of fiction. Also, I don't know what to do with myself if I'm not actively working on a project. And what better project than one that doubles as documentation of a vacation, something to jog the memory years from now. This work was filmed over three days--three days where I barely spoke a word except "arigato gozaimasu"--while walking in and around Mishima, a town in the eastern Shizuoka Prefecture. I used a cheaper digital camera that I've had for a while, because I didn't want to worry about it. I brought a few lenses but decided to embrace a plastic Holga lens designed for digital SLRs. Back at home in Pittsburgh, I constructed the sound score from field recordings that I made at the various sites near Mishima along with percussion and a modular synthesizer. An expanded version of the score is located here: ongoingbox.bandcamp.com. Thank you for watching!

- David


---
---
Follow David:
Instagram:
@david.bernabo

Web:
www.davidbernabo.info
Bandcamp:
ongoingbox
Watch movies:
here
Bio:

David Bernabo
is a filmmaker, musician, dancer, visual artist, and writer, performing with the bands
Watererer
,
Host Skull
,
Cowsboys
,
Gawdz
, and
How Things Are Made
; devising dances with his variable dance company, MODULES; and often collaborating with Maree ReMalia | merrygogo. He curates and produces work for the
Ongoing Box
imprint and co-curates the Lightlab Performance Series with slowdanger.
David's films have screened at the On Art Film Festival, JFilm Festival, Re:NEW Festival, Afronaut(a) Film Club, the Foodable Film Festival, and on WQED's Filmmakers Corner. His recent film,
Moundsville
, made with journalist John W. Miller, is now distributed through PBS/NETA.
David is currently working on a feature-length documentary about the composer "Blue" Gene Tyranny along with working on new records by Watererer and Host Skull.
---
NEW YORK, NEW YORK
EST 2020
︎
© THE QUARTERLESS REVIEW ALL RIGHTS RESERVED