---
February 12th, 2021

---
The Impossible Realm of Embodiment: On the Work of Haruna Lee
By CAITLYN TELLA


Haruna Lee speaks to making theater on Zoom and offers a writing exercise into psychic landscapes



What makes "~*real*~" theater so thrilling is the sensational feedback loop between actors and audiences, woven into the fabric of shared space and time. Unaided by the literal porousness of space that transmits breath and laughter, theater on Zoom plays out more on a psychic plane, which, actually, has its own erotic merits. Like masturbating, actors can only imagine they are being seen.

As far as theater architecture goes, Zoom's fourth wall collapses into the first, second, and third walls, creating a very flat earth experience for everyone involved. An intense suspension of disbelief is required to get into it. Or maybe it's an engagement with belief––belief that this is, in fact, a gathering, that I'm not just alone with my laptop watching, through the window, actors, who are also alone, do their thing.

Playwright and director Haruna Lee, whose body of work in experimental theater spans a decade (and recently earned an Obie for the conception and writing of Suicide Forest), took this most rudimentary constraint on the art form as an opportunity to exploit the very core of live performance in Beyond the Wound is a Portal, a production they helmed as a visiting artist at Stanford last fall. In a feat of collaboration with seven student writer/performers, the choreographer Sarah Ashkin, and musical director Sheela Ramesh, the entirely original Zoom show, created remotely, found ways to, as Haruna said, "reach through the box within the box and touch each other." In Emergent Strategy, a book Haruna cites as an influence, adrienne marie brown portends, "the sacred comes from limitations."



Beyond the Wound is a Portal digital backdrop by scenic designer Carlo Maghirang, depicting an altar of ritual objects chosen by each performer. The show was produced by the Stanford Department of Theater & Performance Studies in Fall 2020.
JULIANNA: What is there on the moon that you can't find here?
DIANA: Space.
-Beyond the Wound is a Portal



Beyond the Wound is a Portal opens on a familiar grid of mini-prosceniums, each performer tucked into the box set of their own home. Alexa (all the actors play versions of themselves) welcomes the audience onto the Zoom platform, "a place that is nowhere and everywhere at once," before each actor goes around *the circle* to share a recent dream and the name of the land they stand on. This paradox, where everywhereness (a gaping yet loaded void) intersects with the actors' specific contexts on colonized ground, activates the non-linear journey ahead.

The tidy Zoom boxes dissolve. Glass breaks, and one of the actors, in simulated miniature, free falls in darkness, then through clouds of wisteria. Frames distort and cohere into a variety of potent, psychic landscapes throughout the show, technically composed by layers of live and pre-recorded action, as well as surrealistic 2D and 3D animations. The actors enter cabins, tunnels, clubs, and cosmos like lucid dreams and navigate their mysteries through song. Singing functions like a sensory faculty—–it heightens the actors' perceptions of grief, longing, and bewilderment lodged in each environment.



A dollhouse full of inexplicable hedgehogs contains a claustrophobic mother-child relationship.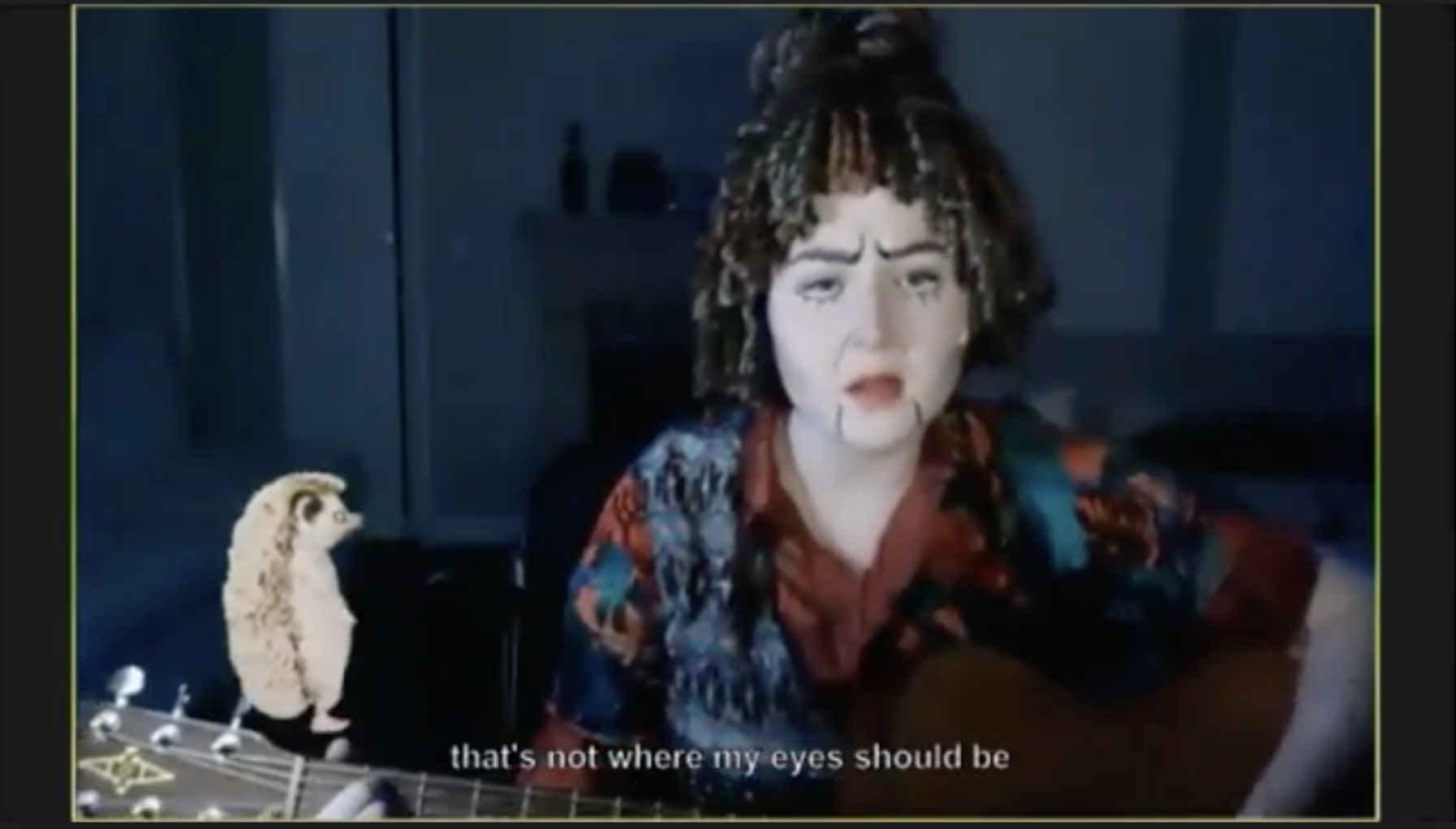 The mother, played by Julianna Yonis.


Club Waxing Gibbous, 2024. Surrounded by flailing limbs and broken beats, performer Alexa Luckey wakes up in the terror of a memory that encases and exposes her.





Morgan, grieving his mother, becomes trapped inside the loneliness of tunnel vision. "I want to go back to feeling safe," he begs a globular, oscillating oracle, before a vaguely familiar tune catches his attention.


MORGAN: I know that song. How do I know it?

"We all sing it to ourselves sometimes," quips the oracle. This moment reminded me how pain can feel so alienating and spacious at once. The tunnel disintegrates and opens on a new portal: the cabin where Morgan finds a letter his mom wrote to him before he was born. He sings, "I wish that she could smile at me one last time / then I would know / and at last she could go." His voice embodies a mix of self-declaration and keening. Throughout the show, singing seems to separate the actors from their pain by giving it its own voice. As a voyeur, this was soothing to experience.






Video and 3D Design by Matt Romein.


In Diana's dreamscape, they are on a quest to live where pain has no lineage. They end up on the moon. There, a bunch of hedgehogs worry they will miss the earth. Even if they do, Diana says, "I don't think the myth that would welcome me back [to earth] has been written yet."






Structurally tied to the ever growing, ever shrinking moon cycle, the show has no resolution, no final healing touch, even as we return to the familiarity of the Zoom grid. Of course not. There is only process and possibility, and myths yet written. When it ended, I felt spacious, as if I'd just spent an hour lying on the earth, gazing into the night sky. The next evening, I met with Haruna on Zoom to talk about the show.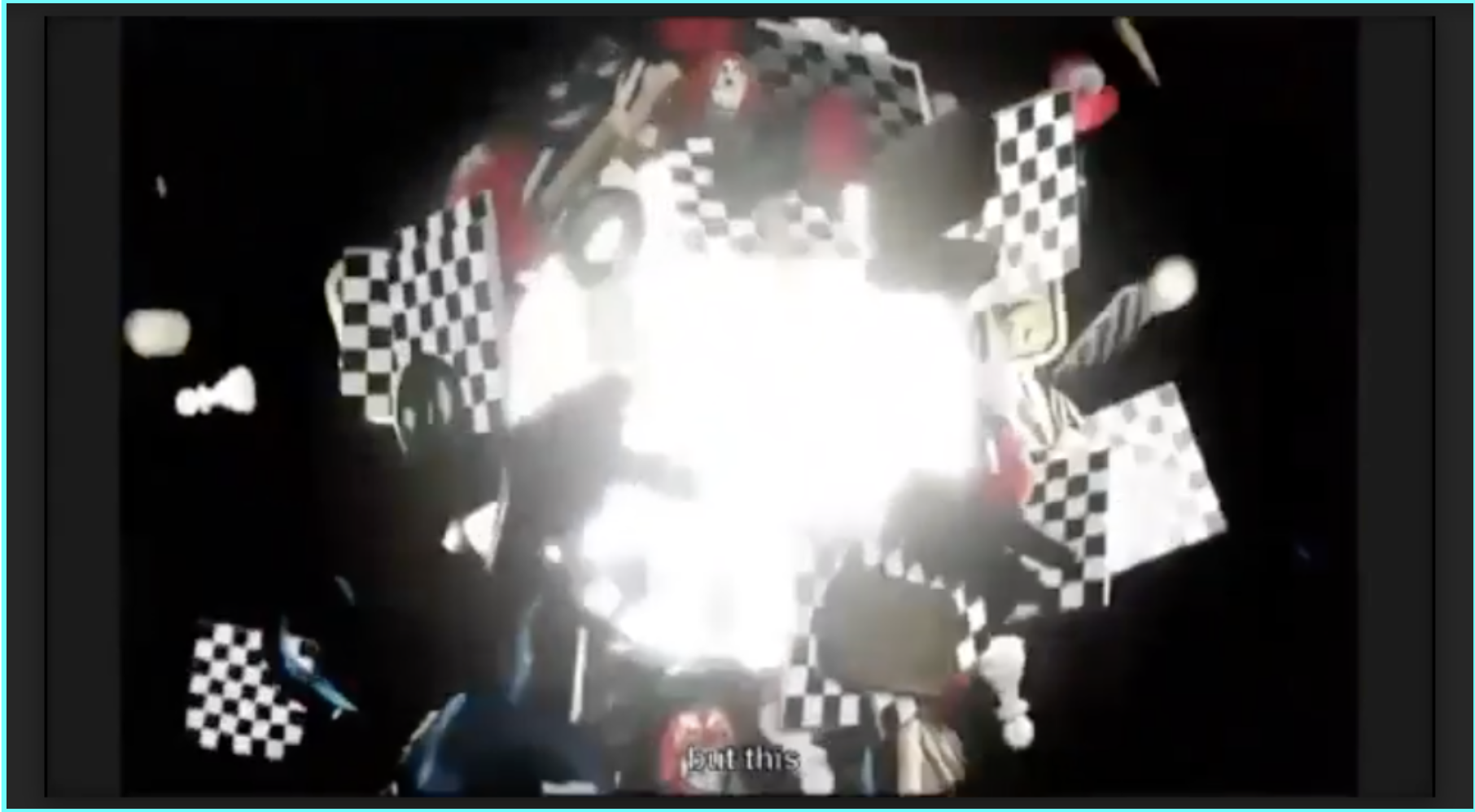 ︎


CAITLYN
The show made me feel incredibly soft. When it was over I thought it was odd that I'd gotten totally immersed in a performance on Zoom. I know the show was originally going to be in-person...how did you make something so intimate online?

HARUNA
Yeah, I echo that there was something so tender and sweet about what came from that particular group of artists. I think there's something to the impossibility of having to create embodiment digitally. The fact that this group was game to move towards that, even though the impossibility was crystal clear, might've been what birthed the tenderness. Without a sense of care and lovingness, I just don't think it would have been possible to create a brand new show.

CAITLYN
The care was palpable. Also, watching it felt like a time capsule of early pandemic.

HARUNA
Yes, we played with that idea so much, so it's amazing that you say that.

CAITLYN
What was the beginning of the pandemic like for you?

HARUNA
In the spring, summer, and fall of 2020, the grief was huge. I was thinking a lot about wounds. I had just had this show Suicide Forest that got cancelled midway through March. My mother was in that show with me, and the trauma of having to close it and having to make quick decisions with my mom about where her body should be, where would be most safe—–should she stay in New York? Do we send her back to Seattle? And slowly realizing the dissolution of the embodied arts culture as we know it... all of that was hitting us in the moment, and it felt like fresh wounds.



Haruna and their mom on their way to the last show of Suicide Forest before shutting down for the pandemic.



CAITLYN
So how did you start working on the show? It was made from scratch, right?

HARUNA
Yeah. Creatively, our show started with adrienne marie brown's essay Dream Beyond the Wounds. In the essay, amb asks us to use our imagination as if it's medicine to dream beyond the space of just wounds. What are the possibilities when we do this? A lot of early writing prompts with the cast were based on imagining the landscape of a wound.

After writing, writing, writing—–scenes, monologues, songs—–we arrived at this place where we were like, how are we going to organize this? The cast was really drawn to the moon cycle as a structure for the piece itself. We started with the waxing gibbous and we ended on the new moon. And we eventually created this very ritualistic, abstract, imagistic dream logic piece.

CAITLYN
I kept thinking "beyond the womb is a portal" because there were a lot of mommy issues being explored.

HARUNA
I wasn't intending on bringing that energy into this work, but I think some of the cast members had read Suicide Forest and the idea of the monstrous mother, which is something I explore in that play, was really present. The hungry mother, the dark sides of mother, as well as the generous light sides of mother, were all at play.

I also picked up on the family relationships they were working through because they were no longer on campus. They were all back home in their childhood bedrooms. So, a lot of intergenerational workings seeped through, a lot of parent-child dynamics, and the residual pain from that. The death of family members was also present throughout the process.

CAITLYN
Yeah, it felt very courageous, and raw. I mean, the actors played themselves, well, versions of themselves. I thought it was interesting how it opened with that slightly awkward thing of going around a circle to introduce yourself. That threshold moment with a new group before you dig into the guts of whatever it is you're about to do. I enjoyed watching the actors perform a kind of ease with discomfort in that scenario, or a mix of ease and discomfort.

HARUNA
There's a sweetness there. Finding a common denominator felt really real in a time when things feel so fractured and people are carrying so much grief and stress and tension. The idea that we have to be productive, and not having space to release and let go. I felt the group working through the biggest, most human ideas we can all relate with. And that somehow created care, like, let's just care for everyone! Can we do that? Is that possible?

But something I learned is that community care can't necessarily be a learning space. It has to be just plain care. Rest and play, not more work, not more constructive conversations on race and racial dynamics and how that plays out in this piece and all that.




Beyond the Wound is a Portal production still featuring (clockwise from top left) Emily Saletan, Alexa Luckey, Julianna Yonis, Morgan Gwilym Tso, Chloe Chow, Diana Khong, and Obed De la Cruz at center.






CAITLYN
How do you work with images as a performance maker?

HARUNA
When I think images, I might actually mean landscapes. I think a location houses a collection of different images. In Suicide Forest, for example, I had just read Funnyhouse of a Negro by Adrienne Kennedy and was struck by the way she uses her own psychic space as the landscape of the play itself. I was really drawn to that as a prompt–—to find a dark psychic space that speaks to my Asian American identity. That led me to thinking about Aokigahara, which is 'Suicide Forest' at the base of Mount Fuji, and what a rep that place has from a Western viewpoint. I was interested in what would happen if that forest was actually full of possibility and love and reconnection with ghosts and mothers. Like, if it's actually an intergenerational space where the conversations that we could never have could happen. The first part of the play that takes place in the suicide forest is full of goats who are rock climbing!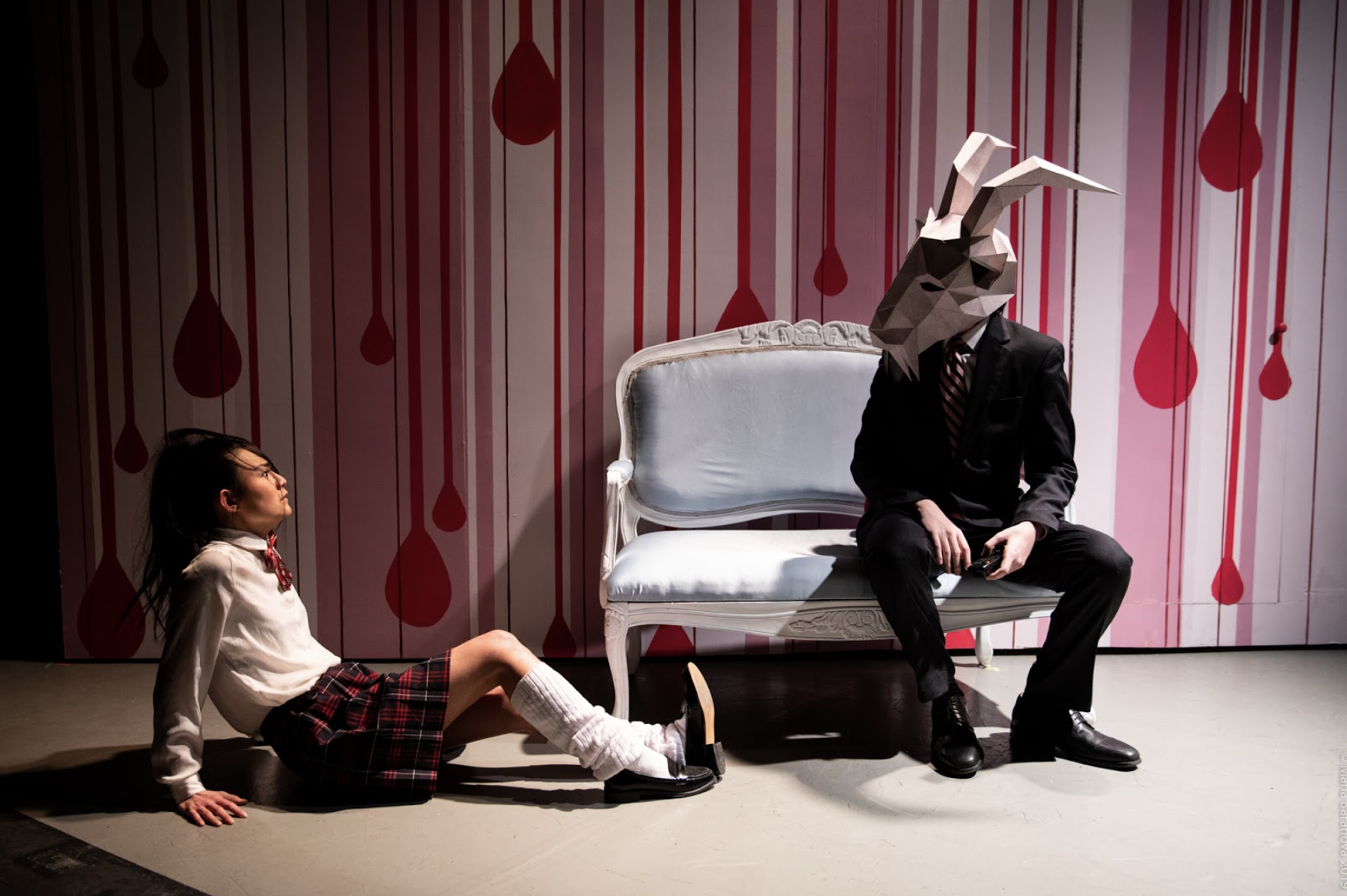 CAITLYN
Oh! Maybe this is a good time to do a little writing exercise? I was hoping you could lead me through something you used in your rehearsal process to generate material.

HARUNA
Oh, yeah. I actually don't think I used this writing exercise for Beyond the Wound is a Portal, but it's a writing ritual I return to all the time. I call it "The Cosmic Cellar."



CAITLYN
When you go on these imaginary journeys, like in this writing prompt, do you fight with your brain about the images that come up?

HARUNA
Oh yeah, I think I do. I think I fight with my brain and play with it and sleep with it. That's what's so beautiful about the image world—–it allows for so much messy simultaneity, and that's such a core of my… of me.

CAITLYN
Where does your life end and performance begin? Or maybe I mean, how do they overlap?

HARUNA
That is such a good question. Does my work create a shift in my lived reality? More and more I'm finding that's the case. That's what I'm getting off on in making art—seeing the ways the thing I make deeply impacts my lived experience and vice versa. My work continually moves towards a more relational, more community-based model. I just can't help it. I'm getting sucked into that.

My most recent collaborators are people I would want to be stranded on an island with. People I am so deeply inspired by and care about, their families and their livelihood. I'm grounding into how my sense of freedom and true, liberated self can be connected to somebody else's who is entirely their own human being. Really beautiful collaboration feels like a mirror of that, where we're allowing each other to be more free rather than less free.

CAITLYN
What processes or rituals have you been participating in lately?

HARUNA
Mmm, I think gathering is such an important ritual. This group came out of making Suicide Forest, which is the "Women-Trans-Femme-Non Binary Asian Diasporic Performance Makers Potluck." Such a long title, but I feel with the first draft—just have all the words!




Women-Trans-Femme-Non Binary (WTFNB) Asian Diasporic Performance Makers Potluck (zoom version)



Throughout the year [this group] has been a touchstone for me—–the act of gathering and also [the fact that] within the group we're actively coming up with rituals that help each other get through this time. We had one where we all, 30 or 40 folks, shared a word that describes something we're carrying in ourselves that we want to let go of. I wrote everyone's words down on a piece of paper and went out to my yard and did a little burning ceremony with this piece of paper that had all of our words. As a group I think we realized like, "Oh, what that person needs to let go of is something I need to let go of too."




Ritual objects Haruna keeps close.


CAITLYN
I think a lot more people have been dabbling in spiritual practices, like creating new solo rituals during quarantine. It's inspiring to hear you talk about a group ritual, a collective beholding. Having everyone there to watch makes it so powerful.

HARUNA
We really had to work up to that idea too. That group met a few times over the pandemic before we felt we could even go forward with this idea. We were like, "Wait, what would it mean for this group to perform this ritual over Zoom?" It didn't even cross our minds at first.



Beyond the Wound is a Portal production still.
Image created by Morgan Gwilym Tso.
---
Haruna Lee:
Haruna Lee (they/them) is a Taiwanese/Japanese/American theater maker, educator and community steward whose work is rooted in a liberation-based healing practice. They are committed to promoting arts activism and emergent strategies for the theater through ethical and process-based collaborations that challenge systems and legacies of power, while inviting the fullness of marginalized bodies and the complexity of lived experience to their practice. Recent plays include Suicide Forest published by 53rd State Press (Ma-Yi Theater Company and The Bushwick Starr), plural (love) (Soho Rep Writer/Director Lab; New Georges), and Memory Retrograde (UTR; Ars Nova; BAX). Lee is a recipient of an Obie Award for Playwriting and Conception of Suicide Forest, an FCA Grants to Artists Award, received the Mohr Visiting Artist Fellowship at Stanford University, a MacDowell Fellowship, the Map Fund Grant, Lotos Foundation Prize for Directing, and a New Dramatists Van Lier Fellowship. They were a member of the 2019 artEquity cohort, and are a co-founder and lead facilitator for the Women-Trans-Femme-Non Binary Asian Diasporic Performance Makers Potluck. They received their M.F.A. from Brooklyn College under the tutelage of Mac Wellman and Erin Courtney, and a B.F.A. from NYU Experimental Theater Wing.
harunalee.com
Caitlyn Tella:
Caitlyn Tella is a theater maker and poet originally from the Bay Area. Her chapbook, Sky Cracked Open the Proscenium Frame, is forthcoming from DoubleCross Press.
caitlyntella.com
---
NEW YORK, NEW YORK
EST 2020
︎
© THE QUARTERLESS REVIEW ALL RIGHTS RESERVED