The Gusseted Lady

Sculptural Poetry by:
KELLY HOFFER
---
"The Gusseted Lady" is a sculptural poem that takes the crease as its generating formal feature.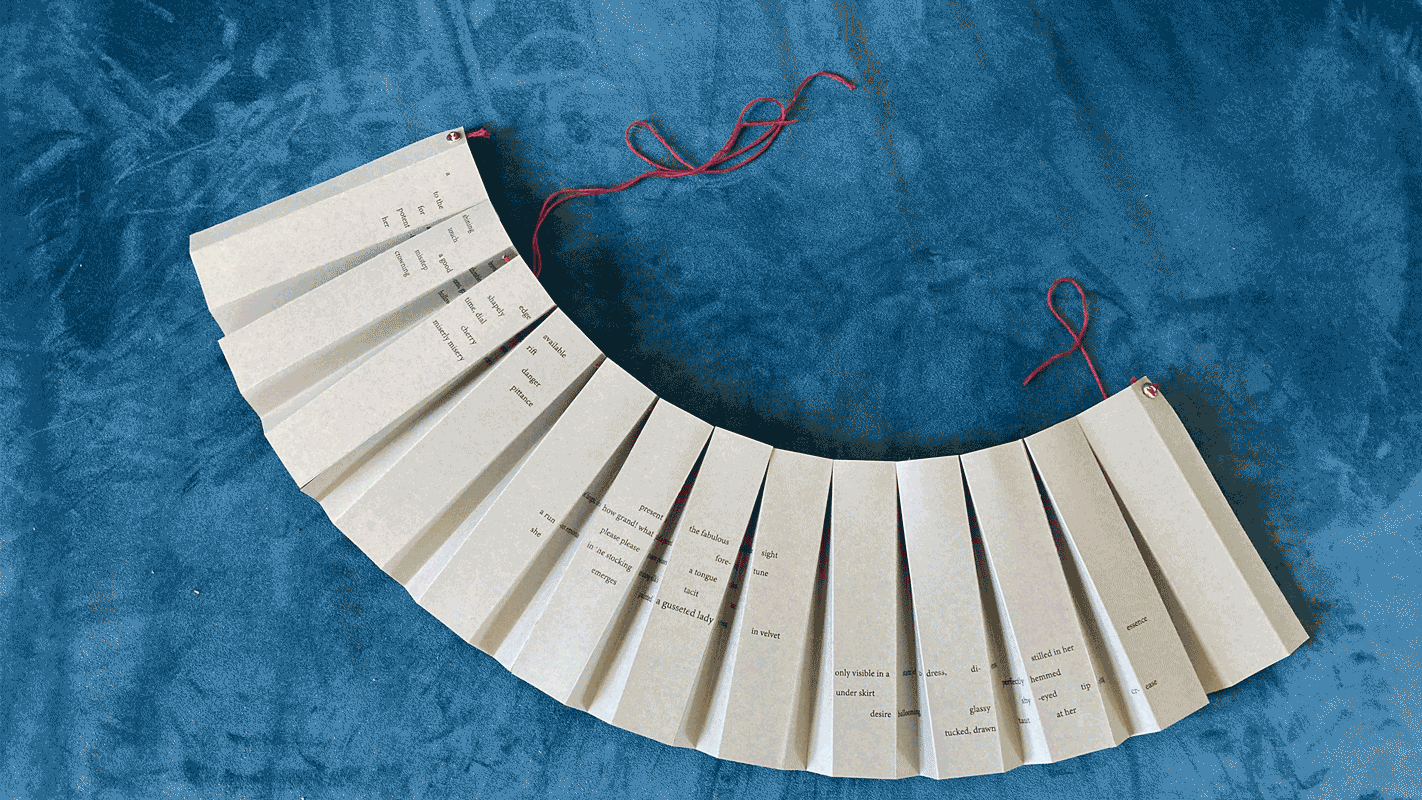 The piece's accordion structure provides two different modes: folded and unfolded, dressed and undressed. With the pull of a thread, the diffuse composition compresses and nearly half of the poem's language is hidden away in the poem's creases, allowing a second, redacted poem to emerge in its place. In this compressed state, the folded poem becomes a wearable garment, mimicking the form of an Elizabethan ruff. When the ruff is worn, the viewer must draw intimately, perhaps even uncomfortably, close to the wearer in order to read the poem. Some of the "creased" language is still visible when the garment in its folded state, but to read all of the printed language the ruff must be taken off entirely—the subject must undress. Thus, the poem hides things within itself; it keeps secrets. To uncover those secrets, the reader must tread the tense line between intimacy and intrusion. Constructed out of stiff cardstock, the collar is uncomfortable to wear and difficult to move in. This material quality is fitting, as decadent constriction—the tension of being held in and held back even within an excess of ornamentation—is a central concern of the poem.
---
---
Follow Kelly:

Twitter: @kellyrosehoffer

Instagram: @kellyrosehoffer

Website: https://www.kellyrosehoffer.com/


Bio:
Kelly Hoffer (she/her) earned an MFA in Poetry from the Iowa Writers' Workshop. Her poetry manuscript Undershore was a finalist for the 2020 National Poetry Series. Her poems have appeared in Yalobusha Review, BathHouse Journal, Prelude online, The Bennington Review, and the inaugural issue of Second Factory from ugly duckling presse, among others. She is currently pursuing a PhD in Literatures in English at Cornell University. She lives in Ithaca, New York, within hearing distance of a waterfall.





---
NEW YORK, NEW YORK
EST 2020
︎
© THE QUARTERLESS REVIEW ALL RIGHTS RESERVED