---
April 2nd, 2021
---
A Year with Wang Chen

By Addison Bale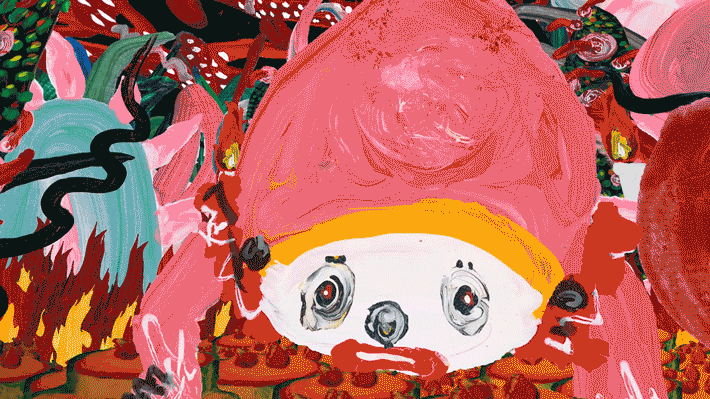 Multidisciplinary artist, Wang Chen, has been a participant of the year-long Roswell Artist-in-Residence program in New Mexico since last June. Now, after 10 months of residency, their new video-piece, "In the Woods," is nearly finished, and two exhibitions of their work are forthcoming. What follows is a dialogue about those 10 months of residency, the process of making artwork as video, and the unique conditions that influenced Chen's practice during a year of pandemic, protest, and a tide of violence against Asian people in the US.


Chen shares with me their love of performing in the video-pieces and as we discuss, I relate the year-long residency in Roswell to the legendary year-long performance projects of Tehching Hsieh. We come to acknowledge that art itself is performative: the performance of artmaking, performing the expectations of what an artist does and looks like. I realize now that Chen and I echo this phenomenon in this transcript, because it is in fact not a transcript, but a paraphrased dialogue—the text follows our original statements and sentiments with adapted language. The performance of an interview rather than an actual interview.



︎︎︎


CHEN
I was really naughty when I was a kid…I would always go to this arcade. I was like, seven, maybe. And then, I wouldn't go home until pretty late at night, and when my parents found me they would be so angry they wouldn't know what to do. I just got punished all the time.

ADDISON
So you've always been a rebel in a way.

CHEN
Yeah, I mean, when I wanted to do something, they really couldn't stop me. I always found a way. I was obsessed with playing computer games since I was really little, I was so addicted and they couldn't stop me at all. [Laughing] I remember when I was ten we got our first computer—I downloaded all the games and stopped studying. And then my mom was so pissed off, and her friend told her, you should put a password on the computer. Then one day after school I went home and I was like Noooo! How is there a password? What am I gonna do?? So I used a pen to leave tiny dots on every computer key, and after I finished all my homework I was asking my mom to put in the password to let me play. Then she typed in the password and after she did it, I looked at the keys to see which dots got wiped away so I could see what the password was. Then the next day, she came home after work and saw me playing on the computer and was like, I put the password! And I didn't say how I figured it out so she told her colleagues like, my kid cracked the code and got into the computer, and they all thought that I was a computer genius.

ADDISON
[Laughing] Wow, so the art of gaming goes way back for you. Was there a time in your life when you decided to pursue art or was it just something that you were doing and you just let it continue?


CHEN

Well, I made traditional Chinese paintings really young as a kid, but that's different than really thinking about art. But with this fundamental training, I went to art school. I dreamed of becoming an artist but it wasn't until my third year in undergrad really when my own work shifted and I found a language through performance. I think I told you I want to be an actor. I love performance. So, when I was in grad school, considering this background in painting and drawing, I started combining drawings and performance together in video, and that's when I felt very strong for the first time. I love to be different characters, you know? There's so much potential and space to be not you when you are acting.

ADDISON

Is that a way to get away from yourself or to get closer to certain traits of yourself?



Young Chen with her paintings, 1998


CHEN
It's so funny because when you think about it, when you're an artist it's all about you. But to be an actor you have to think into the mind of somebody else, into their thoughts and speech. You come close to being no longer you. For me, it's such a relief. I like to be like that, it's nice for me to have that outlet to get away from myself.

ADDISON
How are you during this residency? Are you comfortable enough to act in front of people?

CHEN
I'm doing good here, yeah, I am.

ADDISON
Is there any part of this year-long residency that feels like a performance?

CHEN
Partly yes. First, it is an excellent opportunity to be here, for an entire year, just to work on my project without any interruption. But for me, there is also a certain expectation of looking forward to the result. Like what I could accomplish or what I could achieve. So there is a routine in my time here that I go to the studio, even if I'm not working, but I still go.

ADDISON
Right. To a certain degree I feel like making art as an aspiring artist—talking about myself here—is like a total charade of seriousness. I have no institutions, nor any collectors knocking on my door for work, yet I treat my practice like it runs on deadlines and expectations so that I inhabit the work-state and mindset of an artist with clout and representation, you know? I am pretending to be a "good" artist in a way. [Laughing.]

CHEN
Yeah me too!


GIF excerpt from In the Woods. Video. Wang Chen, 2021.



ADDISON
Chen, I was thinking about something I wanted to bring up: the Roswell Artist in Residence program is one year long. This reminds me of the year-long performance projects of Tehching Hsieh back in the 70s/80s where he would confine himself to some very strict condition for an entire year such as living in a cage (Cage Piece 1978-1979), clocking in every hour on the hour (Time Clock Piece 1980-1981), or being tied to another artist at the waist (Rope Piece 1983-1984). I think the year for Tehching was not so symbolic as a physical or mental endurance challenge as much as it was just like, a unit of measurement for wasting time and existing through it…so, with Tehching on the mind, what is this year for you in Roswell? Do you feel liberated, do you feel trapped?

CHEN
I had a dream and I woke up crying. In the dream I was in this meeting and the people around me were bullying me, telling me I was useless, that I didn't deserve to be there with them, I belong elsewhere. I started defending myself saying, No no, I am an artist and I have a purpose being here, and they were like No, you are nothing, you do nothing.
The past year has been a big shift for everyone in the world, with all of the things that have happened. Politics, immigration, Covid...There is always a certain anxiety that exists in me. I mean, this residency, one year to just focus on work and make art, is obviously the best thing you can have for yourself as an artist. But at the same time, I don't have the confidence to relax at all. I guess it is good and bad for me. Good for making work, bad for my mental health in some ways.


GIF excerpt from In the Woods. Video. Wang Chen, 2021.


ADDISON
When you were beginning the residency did you make a work plan for the year?

CHEN
I did. And time flies, I hope I can finish my plan on time. [Laughing].

ADDISON
Can you walk me through the process of making a video? How does that process start for you?

CHEN
All of my videos, visually, come from my drawings. I make drawings casually and randomly. The characters or marks, or a scene I see in my drawings become inspiration for my video work—I'll develop characters, like draw new characters, or actual fabrication to create costumed characters and from there I begin to imagine plotlines. Then, I enact performances in these costumes utilizing a greenscreen. At the same time I also scan the drawing and layer the elements into composition to create an imagined space for the characters. Sound is also spontaneously growing while making the work.


Pencil and oil pastel on paper. 2019.


ADDISON
Wait wait, when you say, scan the drawing and layer the elements, you mean that you scan the drawings into the computer and then you bring the scanned drawings into Photoshop or Illustrator or something and use the drawings like layers?

CHEN
No I don't scan the full drawings—I will isolate the elements that I want to repaint separated from the original image. Then I scan those so I can compile the elements that I want into layers. It's another way of re-representing my drawings, the source materials, and allowing the characters and narratives that I imagined to assemble in new, unplanned ways once they are digitally rendered. In the digital medium, the narrative unfolds somewhat randomly, it never stays the same. As I go through the video making process, I get new ideas for the redesign characters or narratives or sound that make me change things and sometimes, I react and completely remake what I have if a new idea feels stronger. The narrative is very intuitive in this way also.

ADDISON
What programs are you using?

CHEN
I use Unity, After Effects, and Maya. And then for my sound I use Logic.


Acrylic and mixed media on paper. 2020.


ADDISON
Is your background in Chinese painting still an influence over your work today?

CHEN
Yes, not only aesthetically but also conceptually. I do think that my style comes from Chinese painting—feeling the brushstrokes and making them intuitive. As in Chinese painting, I am interested in imagery that captures the feeling of something, to see that things are more profound and express them beyond just an image or an appearance.


Acrylic and mixed media on paper. 2020.


ADDISON
And yet your video work is so labor intensive and meticulous! How is the process for you mentally and emotionally as you make videos? Do you ever lose interest or are you just in it the whole time?

CHEN
It's different…. Every medium has its own way of leaving a mark. By switching mediums, it always keeps me interested. Just like, existing between the digital and physical dimensions, layering them down and creating different possibilities. It's more fluid.

ADDISON
What is the video piece that you're working on right now called?

CHEN
In the Woods.

ADDISON
Do you already have plans for what comes after this project?

CHEN
Yes, I have been experimenting with clay while I'm at the residency. I'm looking forward to seeing how it will go.


GIF excerpt from In the Woods. Video. Wang Chen, 2021.
---
Follow Chen:

Web:
https://wangchenstudio.com
Instagram:
@ohyo_chen
Wang Chen:
Wang Chen (b. 1991. Hohhot, China) is a multidisciplinary artist based in NYC. Chen incorporates costumed performance, fabrication, drawings, sound engineering, gaming software, and now sculpture, into elaborate video installations. They received a BFA in painting from Virginia Commonwealth University (2014) and an MFA in photography from the Rochester Institute of Technology (2018.) They are currently an artist in residence with the RAIR Program in Roswell, New Mexico, where their upcoming exhibition In the Woods, will open June 25th at the Roswell Museum & Art Center.
https://wangchenstudio.com
@ohyo_chen
Addison Bale:
is a writer and artist from NYC. His work is viewable online:
https://adi-bale.com
---
NEW YORK, NEW YORK
EST 2020
︎
© THE QUARTERLESS REVIEW ALL RIGHTS RESERVED